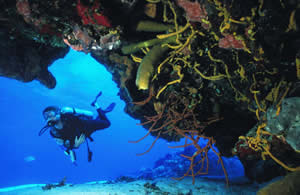 Maduro Dive Fanta-Seas, a leader in dive travel, is offering dive packages to nearly 40 countries worldwide. Currently there are over 225 resorts and adventure operators along with 50 liveaboard dive vessels in their "Select Dive Destinations" program.
Maduro is currently offering a second diver 25 percent discount on its Laguna Beach Resort Utila, Honduras package, in addition to $150 savings.
There is much debate about why Utila is such a great dive destination. Is it the walls starting at just 15 feet and descending into dizzying depths? Perhaps the caves or the famous Halliburton wreck are the reason divers keep coming back. Others would argue that you just can't beat the opportunity to swim with whale sharks or play with the dolphins off the Utila coast. Whatever the reason, Utila is sure to please everyone in your group. Not known for its night life, all businesses on this island paradise are family owned– no national or international chains here.
Diving is only a hop, skip and a jump away and then you can descend to explore the drop offs, pinnacles and sea mounts that are teeming with fish and critters. Wild dolphins like to play along the wall and that is the most likely spot to see the whale sharks as well.
Return to the quaint atmosphere of the resort and partake in the buffet-style dinner. All three meals are set up as buffets. On surface intervals, be sure to check out the 60 x 20 feet whale shark-shaped swimming pool.
Package includes:
7 Nights King Cabin accommodations
Airport Transfers
Welcome Cocktail
Free Wi-Fi in Clubhouse
3 Meals and Afternoon Snacks Daily
6 Days of 3 Boat Dives per Day
2 Night Dives per Week
Unlimited Horseback Riding
Unlimited Use of Kayaks and All Taxes
Travel Periods:
August 30 – September 06, 2014
September 20 – 27, 2014
October 11 – 18, 2014
1st Diver Pays $1,195 / 2nd Diver Pays $895
Maduro Dive Fanta-Seas, www.madurodive.com