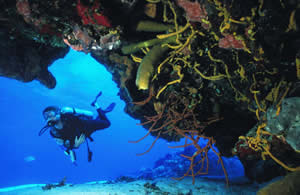 Maduro Dive Fanta-Seas, a leader in dive travel, is offering dive packages to nearly 40 countries worldwide. Currently there are over 225 resorts and adventure operators along with 50 liveaboard dive vessels in their "Select Dive Destinations" program.
Maduro is currently offering a $200 resort coupon book and savings up to $469 on their 7-night Sunscape Sabor Cozumel package.
There is an estimated 500 species that call the Mexican Caribbean waters home, including rays, octopus and the occasional sea turtle. At 84 feet deep, the Filipe Xicotencatl calls out to adventure seekers to visit her final resting place near the Tormentos Reef. It is the coral pinnacles, however, that are the best loved dive sites in Cozumel. Swim the labyrinth of tunnels, swim-throughs and canyons lying amidst the towering coral plateaus.
Cozumel is proud of its Mayan history, and a visit to the island is not complete until you visit the Mayan ruins. There is plenty to keep you busy from taking forays into the jungle or shopping for traditional handicrafts.
Vacations at Sunscape Sabor Cozumel are an adventure offering lively, exhilarating, and affordable vacations in an exceptional location. The 218 guest rooms and suites at Sunscape Sabor Cozumel offer guests spacious and finely appointed accommodations. Boasting both Garden View and Ocean View rooms, guests are sure to have beautiful views looking out into the beautiful island of Cozumel.
Explore the second largest coral reef system in the world, the Mesoamerican Barrier Reef System. From the beauty of the natural reefs to the abundance of tropical fish, this is the experience of a lifetime. Sunscape Sabor is the only hotel in Cozumel with a scuba diving training pool for those who want to try and experience this activity.
Package includes:
7 Nights Tropical View Room accommodations
All Meals, Snacks and Beverages (Including Domestic and International Drinks From 3 Bars and Lounges)
In Room Mini Bar
Daily Activities
Live Shows and Nightly Entertainment
Use of Fitness Center
$200 per Room Resort Coupon Book and 5 Days of 2
Maduro Dive Fanta-Seas, www.madurodive.com