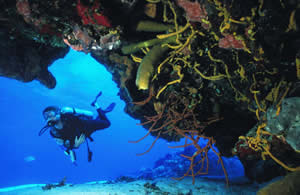 Maduro Dive Fanta-Seas,  known as a leader in dive travel, offering dive packages to nearly 40 countries worldwide. Currently there are over 225 resorts and adventure operators along with 50 liveaboard dive vessels in their "Select Dive Destinations" program.
Once a hangout for pirates, now Cabo San Lucas is a top destination for divers and sport fishers. Inquisitive sea lions escort you through your dive as whitetip reef sharks soar below. The real find is the awe-inspiring Sand Falls discovered by Jacques Cousteau, however.
Don't want to break the bank on your next dive trip? Maduro Dive Fanta-Seas is currently offering specials to get dive travelers to and from their dream vacation without having to tap into a retirement account. Maduro Dive Fanta-Seas' select dive destinations can be found in over 36 countries throughout Mexico, the Caribbean, Latin America, and the Pacific.
Maduro is also offering more ways to dive and save, including last minute deals, promotions and more. Check out their website for prices, full itineraries and details.
Maduro Dive Fanta-Seas, www.maduro.com