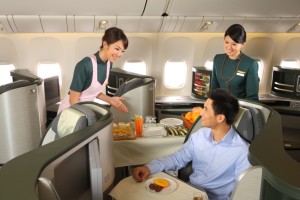 EVA Air has invited travel professionals to get to know its new business service, Royal Laurel Class. EVA's new Royal Laurel Class will be available on all of the airline's New York and Los Angeles flights by November 2012 and on San Francisco, Toronto, Amsterdam, London and Paris routes by August 2013.
EVA is investing US $100 million to upgrade top cabins on all of its Boeing 777-300ERs with new, fully lie-flat seats surrounded by added features especially designed for passenger comfort and convenience. It is configuring Royal Laurel Class cabins with 38 seats in a reverse herringbone layout, enabling passengers at windows to look out without turning and those in the center to comfortably dine and talk with travel companions. Or passengers can just as easily adjust their seats and use convenient privacy panels to establish cozy in-flight cocoons for rest or work.
 
The new seats are approximately 26-inches (65-centimeters) wide, recline 180 degrees and stretch out almost 79 inches (2 meters). Each passenger environment includes thoughtful features such as a coat hook, space for shoe stowage, handy nooks for water, glasses and reading material and a convenient seat-side table for beverages, snacks or notepads, all within easy reach.
It is also outfitting the new Royal Laurel Class seating environments with the latest audio and video technologies, starting with 15.4-inch touch screens and high-fidelity noise-canceling headphones. Passengers with personal electronic devices can work or relax using multi-function AV-input outlets, USB and iPod ports on a system equipped with software such as Media Player, Photo Viewer and PDF Reader. Power sockets are 110V and pull-out tables are extra large, all designed to equip business travelers with personal in-flight offices when they need them.
EVA's Royal Laurel Class amenity kits will feature BVLGARI products such as green tea moisturizing lotion lightly scented with clean, fresh hints of orange, jasmine and rose, and lip balm. Kits also include a comb, toothbrush and toothpaste, and a clothes brush to refresh suits, jackets and sweaters before landing. For more homey comfort, EVA also provides cozy high-quality comforters that are a generous 2 meters (79 inches) long.
In-flight dining in Royal Laurel Class resembles a coveted reservation at a five-star restaurant. Passengers can start with a glass of Dom Perignon champagne, enjoy crusty bread with extra-virgin olive oil and choose among main courses such as steak or lobster. Or they can dine from a menu of healthier choices. Adding to the fine-dining experience, Royal Laurel Class passengers can select from an excellent wine list and conclude their meals with a selection of sliced gourmet cheeses and fresh fruits.
EVA links an international network of major destinations worldwide, including dozens of cities in China and throughout Asia. From Los Angeles, New York, San Francisco, Seattle, Toronto and Vancouver, it offers more trans-Pacific flights from North America to Taipei with more, easy one-stop onward connections to more major business and leisure centers than any other airline. A slide show of EVA's new Royal Laurel Class is available at royallaurel.evaair.com/en/.
EVA Air, www.evaair.com