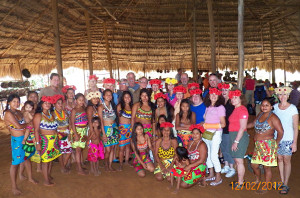 Last month Tara Tours escorted 18 travel specialists from all over the United States and Canada to Panama. It was an 8 day, 7 night deluxe itinerary staying at the following Bern's Hotel Properties, Intercontinental Miramar Hotel, Gamboa Rainforest Resort,
and the Playa Bonita Resort. The group flew Miami/Panama on COPA Airlines.
Enjoyed were a Partial Panama Canal Transit; Full day tour of Panama City; Tour to the Miraflores locks; Aerial Tram Tour at Gamboa Rainforest; and a tour to Monkey Island together with a farewell dinner enjoying a typical Panamanian meal along with watching dancers wearing the most beautiful and adorned national costumes in Latin America.
The group took a tour to the indigenous Embera Tribe where the freshly caught fish lunch was served on banana leaf dishes and adorned with hibiscus.
"I cannot remember when and where I have had so much fun with a group leader and her able assistant", said Jan Altschuller of The Complete Travel Comapany based in Niskayuna, New York. "It really was a pleasure and I have been in this crazy business long enough to spot top-notch professionalism when I see it. Loved the itinerary and the pacing."
Another agent, Rosanne Kerry of FCM Travel Solutions in Chestnut Hill, Massachusetts noted that "Tara Tours did a great job" with organizing the tour, packing in a lot in such a short amount of time.
The company is expected to announce more Central and South America FAM trips soon.
Tara Tours, www.taratours.com