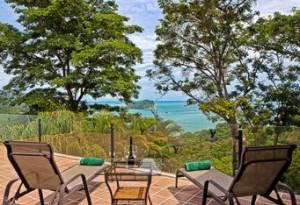 On Wednesday September 5th almost 25 miles beneath the ground the earth began to shake in Costa Rica, creating a 7.6 magnitude earthquake.
The ground shook and rolled all the way through the town of Manuel Antonio. I remember it well as the building of La Mansion Inn began to gently sway with a soft rumble, picture frames around the wall paintings rattled against the wall and my coffee started leaning from side to side almost spilling over the mug.
I recall sitting at my desk in the administrative office wondering if we should evacuate the building or wait it out. Before I could make a decision the rumbling stopped and everything was back to normal. The following hours and days we were all checking the news and calling friends to make sure that no disasters had happened. It seemed like we were all in the clear.
Was this pure luck? No building damages, no deaths, no disasters. Manuel Antonio with all of its condos', villas, Hotels and homes literally managed to "roll" with the punches.
Despite the strength of this quake, it became nothing more than an exciting talking point for residents and tourists over the next few days. For those of us in the tourism industry it was a nice reminder that although this town is seen as a small "gem" tucked away in the rainforest of the tropics, all of our buildings – from the quaint market stores to the 5 star Hotels like La Mansion Inn – manage to stand together with a structural integrity that we can be proud of.
Year after year our town welcomes thousands of tourists from around the world, arriving with exciting expectations of early morning monkey sightings, whale watching expeditions, zip line adventures, white water rafting and luxury sunset cruises. It is a great comfort to know that the safety of all these world travelers never need be a problem even when mother nature has her occasional "mood swing".
La Mansion Inn, www.lamansioninn.com