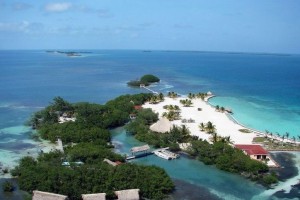 Gentle breezes, lapping waves, swaying palms, pristine sand, and lots of toys to play with. Sounds like the perfect combination for fun in the sun, and Royal Belize has it all. Here are just a few tantalizing tidbits about this exclusive all-inclusive private tropical resort:
Birds Rule. Guests may spot not only pelicans and sandpipers but delicate jeweled hummingbirds and majestic frigates. Pelicans and frigates even nest in the mangrove patch at the north end of the island. Other feathered friends include social flycatchers, plovers, egrets, and herons. It's worth keeping an eye on the sea as well; spotted eagle rays have been known to put on quite a show jumping as high as six feet in the air, and dolphins and manatees sometimes wander by.
Catamaran Sails. The resort recently introduced a new, optional offering: the opportunity to have exclusive use of a luxury yacht for the duration of guests' stay. Partnering with Belize Sailing Vacations, the leading luxury yacht charter company in Belize, the resort is confident this amenity will appeal those who are seeking the very best in private Caribbean vacations.
The Hole. Scuba divers will appreciate the opportunity to dive the nearby Great Blue Hole, part of the Lighthouse Reef System. Right in the center of the reef is a circular hole approximately one quarter of a mile across and 480 feet deep. Made of limestone, it features an array of stalactites and other formations that become more intricate the deeper one dives. Nearby is one of Belize's largest protected areas, Half Moon Caye Natural Monument, which includes 10,000 acres of the atoll and 15 square miles of surrounding waters. 
Spa Specialties. For the mellower guest, a cruise down nearby Sittee River takes visitors past low-hanging coconuts. Royal Belize provides a custom-made pontoon boat to ferry guests to Butterflies Spa on the beach. There a full range of salon and spa services provide pampering galore: Jetlag Defrag; Hot and Cold Stone; Deep Tissue; Butterflies Signature Massage; Sole Escape Foot Reflexology; Cucumber Soothing Facial; Papaya Raspberry Enzyme Peel; Sweet Orange Blossom Butter Wrap; Coconut Wrap; a Pineapple Coconut Sea Scrub; Zen Garden Body Polish. (Massages are offered on-island as well.)
Dedicated Concierge. Even before their arrival, guests are catered to by Peter, their dedicated island concierge. Having discovered the island in 2001, he is an expert on everything it – and the surrounding area — have to offer. From customized food to unique itineraries, Peter does whatever is required to create the luxury escape of a lifetime. (He particularly loves staging al fresco dining scenes, from romantic dinners to beach parties for the whole family.)
Royal Belize, vip@royalbelize.com; www.privatevacationisland.com