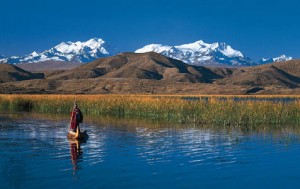 Sun Island at Lake Titicaca has been chosen among the top 10 recommended destinations for travel by the National Geographic website for summer 2012.
The editors emphasize the mythological significance of the place, the Inca ruins and the Great Stone Steps, the Fountain of Youth and the sacred rock Chinkana. They also praise the experience that has achieved the Aymara communities with tourist's treatment. The Posada del Inca Eco Lodge, an old Hacienda House, is located on the top of the Island, having the best panoramic view of the Andes snowed peaks, as well as the blue sapphire water of Lake Titicaca.
Guests can arrive to Sun Island by a smooth Hydrofoil cruise and reach the Posada del Inca accompanied by a llama trek throughout bucolic sceneries.
Lake Titicaca, www.titicaca.com