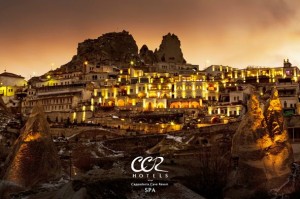 Cappadocia Cave Resort & Spa is the only spa hotel in Turkey with cave therapy rooms which overlook the beautiful Red Valley with uninterrupted panorama views of the sunrise and sunset. Guests sleep in thousands of years old caves, rock cut rooms bringing old settlements of the village alive.
Visitors will enjoy taking a stroll under the changing colors of the Cappadocia landscape, exploring Fairy Chimney formations and viewing historical sights which make Cappadocia one of the seven wonders of the world.
All our guest rooms are spaced with matchless views of the Cappadocia landscape, and an award-winning culinary experience awaits at Padishah Restaurant, which boasts a superb wine cellar.
The resort also houses the world's first cave spa, dubbed 'Leea Spa'', which offers a myriad of indulgent therapies, calming touches and fragrant aromas.
With a short distance to the airport, the resort aims to alleviate guests of typical vacation worries, allowing them to focus on the beauty of nature while forgetting about everything else on their Turkish Cappadocia getaway.
Cappadocia Cave Resort & Spa, www.ccr-hotels.com