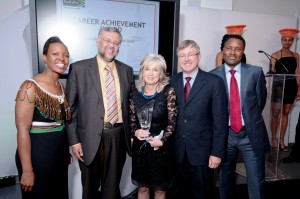 South African Tourism, the official tourism board for South Africa, held its 2012 Ubuntu Awards in the heart of New York City on Tuesday, April 24, 2012 at 620 Loft & Garden. Now in its third year, the annual Ubuntu Awards recognized South African Tourism's outstanding trade partners in business and leisure travel in an elegant reception for 100 guests from all over North America. The Honorable Mr. David N. Dinkins, the 106th Mayor of the City of New York received the "Friend of South Africa" award for his remarkable contribution to the South African people and his continuous work advocating human rights and racial equality around the world. Television icon and host of JEOPARDY!, Alex Trebek served as Master of Ceremonies, while keynote speaker, Hon. Marthinus Van Schalkwyk, South Africa's Minister of Tourism and distinguished speakers H.E. Ebrahim Rasool, South African Ambassador to the U.S., and Thulani Nzima, CEO of South African Tourism.
Minister Van Schalkwyk infused his keynote address with newly-released figures and record-breaking statistics that highlighted South Africa's achievements from over the past year. Acknowledging the key roles played by the evening's audience of trade partners, Minister Van Schalkwyk emphasized the intrinsic value of partnerships and collaborations as the key to the destination's success.
"With overall tourism growth in 2011 of 3.3%, we grew 23.2% in the U.S. over the last two years at a volatile time in the global economy," stated Minister Van Schalkwyk. "For us to have achieved the extraordinary success we have in this market, we rely on the travel trade to be frontline ambassadors for our destination. South Africa's success pivots around the work the people in this room do."
The underlying theme of the event, "Ubuntu" is an African philosophy that speaks to people's bonds with one another and to their interconnectedness. It is the essence of being human – "I am because you are." This belief is the very spirit behind the Ubuntu Awards, which was officially kicked off by the unveiling of "What's your Big Five?" South African Tourism's latest 360º campaign to promote its diverse offerings as a leading travel destination. Previewed at the event, "What's your Big Five?" platform deconstructs South Africa as a destination and showcases the unique adventures and experiences offered in the Rainbow Nation. "What's Your Big Five?" is set for activation this fall and will enlist the participation of fans and advocates of South Africa from around the world including celebrities, influential experts, trade professionals, and consumers to underscore South Africa, beyond safari.
"Our new campaign will engage key stakeholders and fans of South Africa like never before," said Sthu Zungu, President of South African Tourism North America. "Through What's your Big Five we're deconstructing South Africa, underscoring the diverse experiences our destination has to offer and making South Africa distinct in the minds of consumers."
Master of Ceremonies, Alex Trebek, began the awards presentation with the category for Top Producer, awarded to Lion World Tours and Premier Tours. The award for Top Producing Online Travel Agency went to Orbitz; Best Value for Money Packages to South Africa went to Destination Southern Africa; Outstanding Achievement in Creative Destination Marketing was awarded to Roar Africa; Philanthropic Award went to Nomvimbi Meriwether of Meticulous Tours; Outstanding Achievement in Destination Promotion by a Consortium to Virtuoso; and Best Airline to South Africa was awarded to South African Airways.
South African Tourism honored Lucille Sive of Lion World Tours for her unflagging, outstanding work in selling tours to South Africa with the Career Achievement Award. For over forty years Lion World Tours has demonstrated its expertise in Southern and East Africa and with their safari specialists all having first-hand, exceptional knowledge of Africa. Pictured above top are Lucille Sive (second from left) with her Career Achievement Award accompanied from left to right by Sthu Zungu, President North America South African Tourism, H.E. Ambassador Ebrahim Rasool, Ambassador of South Africa to the United States, and the Hon. Marthinus van Schalkwyk, South Africa's Minister of Tourism.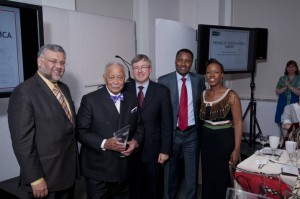 The Friend of South Africa Award was presented to the Honorable David N. Dinkins, the 106th Mayor of the City of New York, for his extensive and gallant work on behalf South Africa. He has made incredible contributions to the African people and communities as a tireless advocate of human rights and racial equality both in the U.S. and abroad. Namely, Mr. Dinkins' work with the anti-apartheid movement during his tenure as Mayor and his service on both Nelson Mandela Foundation and relevant charities including the Nelson Mandela's Children's Fund, where he serves as a Board of Director has garnered him this special recognition. Pictured above from left to right are H.E. Ambassador Ebrahim Rasool, Ambassador of South Africa to the United States, Hon. David N. Dinkins, Former Mayor of New York, Hon. Marthinus van Schalkwyk, South Africa's Minister of Tourism, Thulani Nzima, Chief Executive Officer of South African Tourism, and Sthu Zungu, President North America South African Tourism.
On hand to celebrate South African Tourism's esteemed trade partners were Ambassador Kingsley Makhubela, Director-General of the National Department of Tourism, South African Tourism Chief Marketing Officer, Ms. Roshene Singh, and South African Tourism's newly-elected Chief Executive Officer, Mr. Thulani Nzima.
The complete list of awards and award recipients is as follows:
· Top Producer – Lucille Sive, Lion World Tours and Julian Harrison, Premier Tours
· Top Producing Online Travel Agency – Mary Rachelle Stumpf (Cherpak), Orbitz
· Best Value for Money Packages – Terry von Guilleaume, Destination Southern Africa
· Outstanding Achievement in Creative Destination Marketing – Jacqui Bland, Roar Africa
· Outstanding Achievement in Destination Promotion by a Consortium – Mauricio Leyton, Virtuoso
· Best Airline to South Africa – Todd Neuman, South African Airways
· Philanthropic Achievement – Nomvimbi Meriwether, Meticulous Tours
· Career Achievement Award – Lucille Sive, Lion World Tours
· Friend of South Africa Award – David Dinkins, 106th Mayor of the City of New York
South African tourism, www.southafrica.net