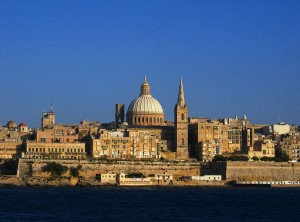 Malta's location in the center of the Mediterranean, with its natural harbors and experienced sailors, has for centuries established it as an important port of call. Over the past years, cruise liners have included Malta as one of the top year-round destinations in Europe; Malta was awarded a Seatrade Insider Award as Destination of the Year (2008).
The imposing historical bastions enclosing the harbor welcome over 250 cruise ships a year, and over 400,000 passengers all eager to come ashore and explore the beautiful island, if only for a day. The Grand Harbour is Europe's largest natural harbor and sees a large number of cruise ships as port of call, turnarounds, as well as home porting. Today, the Valletta Port is one of the top ten cruise ports in the western Mediterranean region.
Whereas some city centers are often located miles away from the port, Malta's capital city Valletta is within walking distance of the waterfront. Valletta is a UNESCO world heritage site and a center of theatre, history, café life, wine bars and shopping. The new Valletta Waterfront Cruise terminal is itself a one-stop shop whereby cruise ships and their passengers can find all their needs catered to—check-in and baggage facilities, porterage, tax-free shopping, a tourist information service, food and beverage facilities, retail facilities, taxi services, and a public bus service.
Thanks to Malta's small size, a lot can be seen when stopping over by cruise liner. Visitors can book a range of guided tours to the three cities (Vittoriosa, Senglea and Cospicua), Valletta, the Medieval "silent city" of Mdina or the prehistoric temples. One can also visit the Crafts Village in Ta' Qali. If the stopover allows for a full-day trip, visitors can also experience the small tranquil sister island of Gozo. Many are so impressed with Malta, that within a few months, they come back for a longer stay in order to explore the Maltese culture and way of life.
When the cruise begins or ends in Malta, it's wise to plan on staying a few days to explore what the islands have to offer. The Palace and The Victoria hotels, centrally located, make it easy to travel to all corners of the island while being taken care of in two of its most modern and luxurious hotels.
The Palace Malta, www.thepalacemalta.com; The Victoria Hotel, www.victoriahotel.com